Certified Digital Marketing Specialist
Digital Marketing has grown around the world in importance and recognition, and consequently the career and certification in Digital Marketing is a very important achievement these days.
The CDMS certification was created for product team members who have knowledge of the main terms, applications and want to stand out in their careers.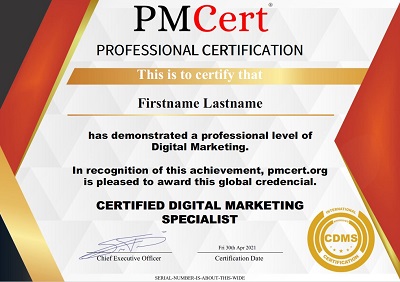 This certification benefits professionals in all areas, as it demonstrates the professional's knowledge of digital marketing practices and also applying them in product management.
What will be assessed in this exam:
The topics required in this exam will be based on knowledge about Target Audience, Customer, Consumer, Prospect, Subscriber, Lead Types, B2B x B2C, User Experience, E-mail Marketing, Vertical and Horizontal Scale, Types of Competition, Sales Funnel, Launch Types, Market Research, CPC, CPA, CPM, CTR, SEO, OKR, KPI, BCG Matrix, GE Matrix, Porter's Forces, 4Ps, Organic Marketing, Direct Marketing, Paid Marketing, Operational Marketing, Content Marketing , Affiliate Marketing, Remarketing, Customer Relationship Management, Online Marketing, Digital Marketing, Inbound Marketing, Outbound Marketing, Content Curation, Google My Business, Google Analytics, Google Trends, Google Adwords.
You are not required to attend trainings to take one of our exams, although it is highly recommended. We believe that certification is a competitive differential, so we provide assessments for professionals who want to prove their knowledge and stand out with the proper use of Digital Marketing.