Certified Product Manager - Foundation
Product management has grown around the world in importance and recognition, and consequently the career and certification in product management is a very important achievement nowadays.
The CPM-F® was created for team members and product managers who are just starting out in the profession and want to excel in their careers.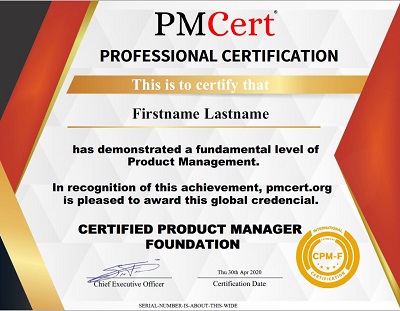 This certification benefits professionals in all areas, as it demonstrates the professional's interest in gaining knowledge in product management processes and terminologies.
What will be assessed in this exam:
The knowledge required in this exam will be based on basic topics in brand management, Personas, Stakeholders, User Experience, Business (B2B and B2C), Strategies for creating a product, Opportunity Scales, Stakeholder interviewing techniques, Open and closed questions and several other options focused on the work of the Product Manager.
You are not required to attend trainings to take one of our exams, although it is highly recommended. We believe that certification is a competitive differential, so we provide assessments for professionals who want to prove their knowledge and stand out in the role of Product Manager.