Certified Customer Experience Specialist
Understanding and improving the Customer Experience is a need that has grown around the world in importance and recognition, and consequently the career and certification in Customer Experience is a very important achievement nowadays.
The CCXS certification was created for managers and analysts who seek to meet customer satisfaction and wish to stand out in their careers.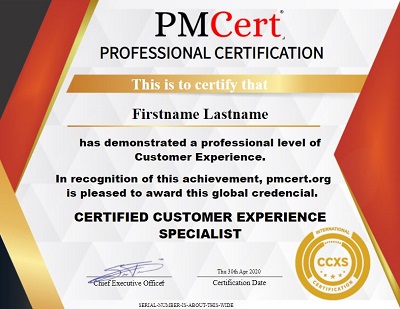 This certification benefits professionals from all areas, as it demonstrates the professional's interest in improving interaction with the customer at all stages of the purchase journey.
What will be assessed in this exam:
The topics required in this exam will be based on advanced and practical knowledge in Customer Experience and its Management, Design and Brand Management, Competencies (Routines and Processes), Organizational Ambidexterity, Touchpoint (Adaptation, Monitoring, Prioritization and Design), Management in CX Culture (Planning, Funding, T&D, Performance Management, Compensation Management and Retention Management).
You are not required to attend trainings to take one of our exams, although it is highly recommended. We believe that certification is a competitive differential, so we provide assessments for professionals who want to prove their knowledge and stand out with the effective application of Customer Experience techniques.